Our roller conveyors
Maximum performance for you – our SK range of roller conveyors has been designed to help you master your intralogistic challenges.
We are specialists when it comes to transporting and lifting parts, workpieces and small load carriers. With our roller conveyors, belt conveyors and transfer systems, as well as KLT (Small Load Carrier) lifts, we have the right solution for every need.

Pefectly matched modules
One of the decisive advantages of our roller conveyor is the modular building block principle, with the help of which complex conveyor systems can be expanded in almost any manner.
In this way, you can adapt your transport processes very flexibly to the spatial conditions and, if necessary, convert, expand or retrofit them with accessories.
The system includes straight sections, curves, inward and outward transfer units, both with 24 V drive on request.
---
Standard modules
of the SK range
Roller conveyor
Without drive
24 V drive (with or without zone function)
One drive roller + max. 11 driven rollers


Curve
Without drive
24 V drive (with or without zone function)
One drive roller with the exception of the 90° curve (2 drive rollers)
Angle options: 30° / 45° / 60° / 90°
Fixed roller spacing: 75 mm


Inward and outward transfer unit
Without drive
24 V drive (with or without zone function)
Angle options: 30° / 45°
Fixed roller spacing: 75 mm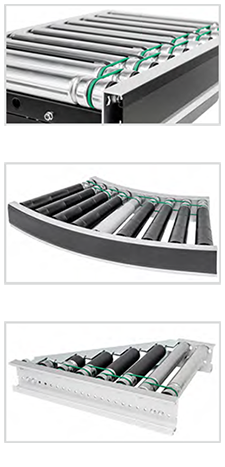 ---
Standard modules
of the SK range
Lateral transport 90°
Angle 90°
Transport speed 0.1 - 1.2 m/s
Stroke time 0.3 m/sec.
Load capacity 40 kg*
Belt material: Support belt with high friction
For straight routes, the lateral transport can be placed anywhere


Deflection system 30° / 45°
Outlet angle 30° / 45°
Outlet left and/or right
Double row idler pulleys
Transport speed 0.1 - 1.2 m/s
Deflection time 0.3 m/sec.
For straight routes, the deflection system can be placed anywhere