Orgatex
Our corporate group is a partner of the company Orgatex. Orgatex developes and manufactures high-quality products that contribute to the lasting improvement of production sequences and other processes in industry and middle class firms. From markings for containers or shelves, floor markings, visual pockets, Kanban products or everything concerning the issue of flow of materials: here you'll find the suited products for the use in your company.
---
Orgatex:
container identification
It's vital for an optimised warehouse organization to properly mark all kinds of containers. We can provide proper marking solutions for every need. When choosing the right attachment of the markings, it is important to take into account the type of material as well as the differentiation between permanent and flexible attachment.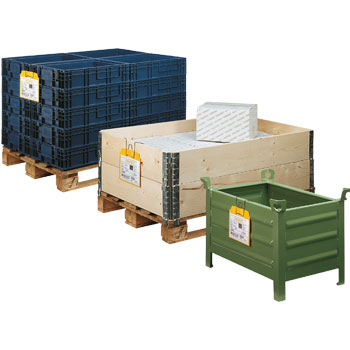 ---
Orgatex:
storage compartment and parking bay marking
Our visual pockets are available in magnetic, adhesive and appendable versions. They are used for the marking of e.g. mesh boxes, cardboards, metal baskets and even pallets. With its top opening the included documents are safe from dirt and dust. The transparent film on the front is UV resistant and see-through so that the use of conventional scanners is granted.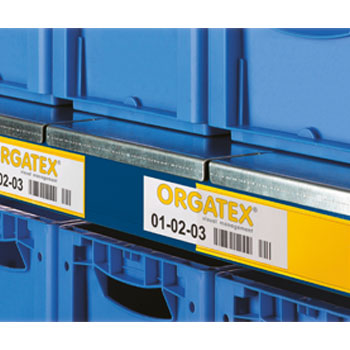 ---
Orgatex:
LongLife floor marking
Floor markings are used in almost all production and storage areas nowadays. Whether on driveways, parking spaces, hall markings or escape and rescue routes - floor markings guarantee proper orientation.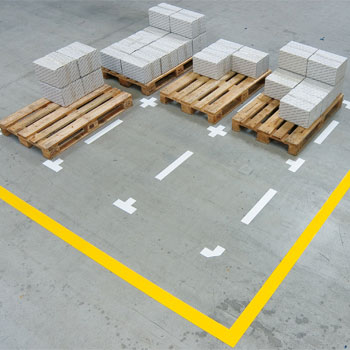 ---
Orgatex:
frames
The frames are resilient visualization tools usable on both sides to mark parking spaces, shelves and storage areas. They are available in all common DIN formats and eight different colours and can be used in portrait or landscape format. The stable plastic frame ensures a high level of resilience, that can be used perfectly for hightraffic areas. The anti-glare protective cover made from pvc can be read from all common scanners.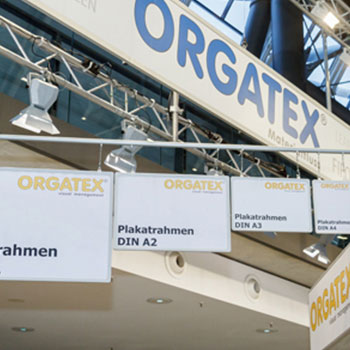 ---
Orgatex:
inserting systems
Material availability and inventory reduction are well-known keywords in almost all production and logistics areas. With the use of Kanban as well as the pull principle you can not only facilitate lower stocks but also encrease delivery capability.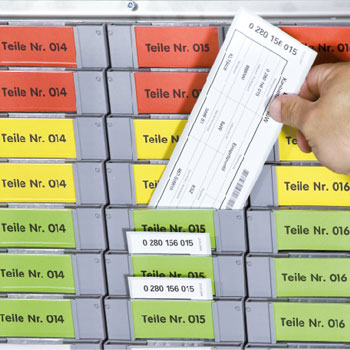 ---
Orgatex:
visual boards
In the field of process optimization within the flow of materials we can offer a multitude of visual boards that can be configured individually. They are intended for the presentation of internal information, process sequences or other key figures and can at the same time be used for planning and control in production.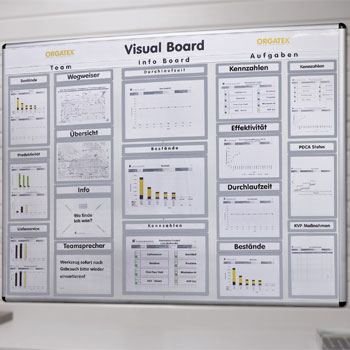 ---
Curious?
Got interested?
If you want to know more about our product landscape or would like to make a non-binding request, we and our team will gladly provide you with advice and assistance by phone under +49 9621 67547-0 or mail to This email address is being protected from spambots. You need JavaScript enabled to view it..