COVID-19 - Protect yourself and your staff
As a manufacturer of protective enclosures we assist you with the protection of your personnel and your customers.
---
Our know-how is your advantage
Our corporate group with the companies syskomp gehmeyr and bfm as well as the business unit emico is your competent partner in all issues concerning assembly technology and industrial automation.
---
Our product portfolio
Discover the broad product landscape of our corporate group.
---
Our product range and performance programme
You can find everything you need concerning our product landscape in our product range and performance programme. It can be viewed and downloaded for free (PDF). If you should be interested in a printed copy, you can contact us at This email address is being protected from spambots. You need JavaScript enabled to view it..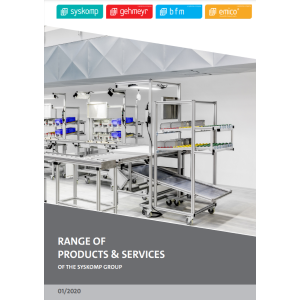 Product range and performance programme
(English)
A short overview of all products offered by our corporate group